If you're looking for a natural alternative treatment for your dog, you may have considered hemp oil or CBD oil.
This often causes a lot of confusion amongst dog owners, so we've put together a comprehensive FAQ page we hope will answer a lot of the burning questions you may have about using hemp oil on your fur baby.
Hemp is a strain of the cannabis plant and has two main components that are often the subject of very lively conversation and extremely intense debate: tetrahydrocannabinol (THC) and cannabidiol (CBD).
THC is that component of marijuana that creates the 'high', while CBD is the non-psychotropic chemical but is often used for pain treatment, epilepsy, anxiety, and a range of other medical conditions.
On that note, it's important to understand the difference between hemp oil and CBD oil, each of which has a different effect on both humans and dogs.
Below, we've listed some frequently asked questions we hear all the time regarding hemp oil for dogs and CBD oil for dogs.
Is hemp oil safe for dogs?
Yes! Hemp oil is safe for dogs. They won't get "high" from consuming hemp oil, which contains small amounts of THC and CBD (there is only about 0.0075% of CBD in hemp oil).
Hemp oil has been found to have helped dogs reduce their anxiety, reduce pain associated with osteoarthritis, treat epilepsy, and overall improve their quality of life.
You should also make sure your hemp oil contains less than 0.3% THC. An amount this low is extremely unlikely to cause your dog to display symptoms of 'being high' which may include confusion, whining and seeming wobbly or otherwise unstable while standing up.
At Rick's Hemp Oil, we offer bottles of healthy alcohol-free hemp extract and carrier oil we're sure your dog will love! Rich in vitamins and minerals, your dog should have no trouble taking it with their good.
How quickly does hemp oil work for dogs?
Generally, hemp oil will start to work for dogs within 30 to 45 minutes. But this will also depend on the individual dog, as some have faster metabolism than others.
Once taken, hemp oil 's effects might then last from between 4 to 8 hours (depending on your reason for giving your dog hemp oil, and how severe your dog's condition is).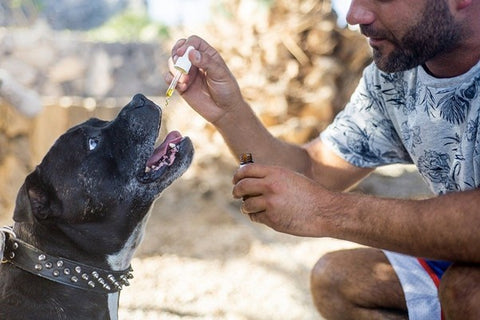 Can vets prescribe CBD Oil in Australia?
Yes, vets can prescribe CBD for use on animals, including dogs. CBD oil is a "Schedule 4" drug, meaning it is classified under 'Schedule 4' (Prescription Animal Remedy) of the Poisons Standard (June 2021).
Remember that CBD oil is not like hemp oil and must be medically prescribed.
But the process is not as straightforward as making an appointment with your vet and getting some CBD oil. Vets need to secure special approval to import the CBD oil for your dog and, as far as we're aware, no Australian- registered products are on the market.
The bottom line is that CBD oil has only been legal in Australia since 2016, and its primary emphasis has been the treatment of human beings.
Vets in any case will generally only prescribe medical cannabis products such as CBD oil they can be sure it doesn't contain any toxic materials that has the potential to harm your dog.
Do vets recommend CBD oil for dogs?
This will depend on your vet and your dog.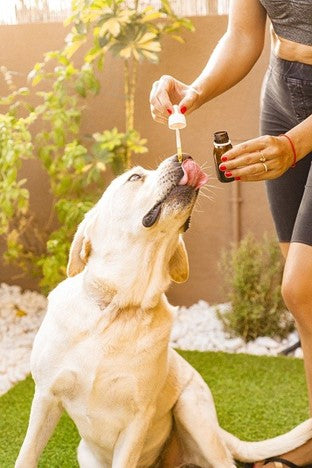 Some vets may be willing to prescribe CBD oil but only certain conditions, such as if your dog is already receiving other anti-inflammatory medication, if blood tests are performed and regular check-ups are conducted (possibly adding up costs for you).
Some vets may be hesitant to recommend CBD oil for your dog at all because:
It's very difficult to find the right vet or pharmacy who can find a supplier;
More research needs to be done on the product, and CBD has been known to have side effects in pets such as dirrohea and liver damage; and
CBD oil is expensive.
Can veterinarians discuss CBD oil?
If you attend your vet, they might be more than happy to discuss CBD oil and if it is right for your furry friend.
However, don't be disheartened if they choose not to talk about it. Many vets are simply unaware of the effects of CBD on animals and might be unwilling to even make a comment on how it can affect your dog.
Is CBD oil good for dogs with arthritis pain?
CBD oil is known to have positive effects for dogs who are suffering from arthritis, but it is probably not the best on its own.
Vets have recommended that you should complement CBD with existing therapy rather than replacing it. Therapies can include fish oil diets, anti-inflammatory medications, injections, and other remedies.
Still, you should take care when choosing the right CBD oil for your dog and to always consult your vet before deciding.
Can CBD oil kill a dog?
No. CBD oil (assuming it is safe, legal, and prescribed) won't kill your dog. It is a non-toxic chemical.
Overdosing on CBD oil can, however, be harmful. If your dog takes too much, they may suffer from drowsiness, diarrhea, incontinence, or ataxia (a movement disorder).
Have you got a question not on this list?
If you've got a burning question that's not on this list, get in touch with our friendly team at Rick's Hemp Oil today.
Buying hemp oil online is always better when you trust your supplier, so please reach out to us if you're unsure about anything you've read.